Martti Laine
OH2BH
The Early Years and 10 New Countries

Making record speed in life -- position, purpose and identity all very well defined. That describes our friend Martti OH2BH, the consummate DXer.

For Martti, life just continues to get better with the biggest of changes being quite recent in the overall chronology of his major life experiences. In 2000, after living abroad for seven years -- most recently in Beijing, China -- Martti and his family returned home to their native Finland.

On a personal level, the homecoming would prove to have added significance for Martti as it marked the culmination of many of his favourite ham activities over the last 40 years.


At one point in time Martti wanted to do what he perceived as the ultimate event in radio -- activate a new country for the world DX community. Looking back (to date) he has added 10 such entities to the DXCC program.

At the same time, while he once aspired to be a contest champion, little did he know that he would dominate the CQWW for four solid decades. A direct by-product of his fondness for the contest arena was the development of an entire new team philosophy toward contesting -- the Formula One approach.

Any of the 10 all-time new countries would make a headline story by itself, and we should note each for the record: 3C0AN, OJ0MR, S0RASD, 4J1FS, BV9P, BS7H, H40AA, E44DX, P51BH and TX0DX.



Missionary Work and the Awards

Along with providing an abundance of on-air gratification for the globe-spanning fraternity of amateur radio aficionados, Martti -- true to his nature -- always took a few additional steps towards gold. Not surprising -- to those of us who know him well, you say.

In conjunction with his visits to those far-off countries, Martti decided to do something meaningful and long lasting. He opted to be an ambassador of amateur radio and his dedicated mission was to help these countries become equal partners in the global community of amateur radio.


He initiated the concept of missionary DXpeditioning and soon found himself working hand-in-hand with local administration discussing new horizons while gaining major added value for DXing worldwide.

In keeping with his constant pursuit of excellence and desire to give to those who have assisted him in achieving his goals, Martti seeded a new era in DXpeditioning. His 'in-country' missionary work included:

drafting amateur radio regulations in Albania (ZA1A) assisting Burmese nationals in the reestablishment of their beloved hobby (XZ1A) convincing North Koreans there was nothing in amateur radio to be afraid of (P51BH) conducting a youth-oriented amateur radio training course in Beijing, China (BY1DX)
It is important to note that Martti's success with ZA1A was a direct by-product of the new era that was dawning in global East-West relationships.

Through this work, Martti would deliver ongoing value to DXers around the world for years to come as we are the direct benefactors of his tireless missionary work.

The formula for true success was obvious to Martti -- give and you will receive!

One thing is certain; Martti's list of personal and team achievements in radio have not gone unnoticed. In 2000 the International Amateur Radio Union (IARU) recognized his efforts in bringing various nations back to the ranks of amateur radio. At the 2000 Dayton Hamvention, he was referred to as a DX luminary as he was awarded the Hamvention's "Amateur of the Year" title.

In April 1989, he was recognized for his work, as he became the fourth member of the CQ Contest Hall of Fame.


Much earlier in his radio career -- January 1972 -- Martti was inducted into the CQ DX Hall of Fame as its eighth member. With the two awards from CQ, Martti joins an illustrious collection of radio legends -- but even more importantly, he becomes the first person to have entry into both hallowed halls of fame.

True to his nature as a diplomat and goodwill ambassador for amateur radio, Martti had involvement in WRTC 1990, 1996 and 2000.

For WRTC 2002 Helsinki, Finland, he assumed a full time role in event organization and promotion as the Radio Competition Co-Chairman alongside Pasi OH2IW.
The Actor, the Audience and the Locations

What else can be said about Martti? On a personal note, I think a word about his on-air operating style is in order. When I first heard Martti (long before I was licensed) and later once I became licensed and had the pleasure to work him myself, I couldn't help but notice his desire to dedicate time to each contact that he made -- his respect for fellow operators is truly genuine.

I believe one of his on-air objectives is a desire to assist everyone to secure either their first contact with him or a new country. He is very workable!

Finally, I have heard Martti promote what I believe he calls the "actor and audience" concept of operating. Using this approach to control the eagerness of today's operators anxious for a new country, Martti is able maintain a positive dialogue in the pileup that allows him to secure orderly operating and a happy audience. The net result: everybody gets to work the new one and feel good about the experience.

Some of the exotic locations from which we've had the opportunity to work Martti over the years...







DXer and Contester with the Right Stuff

Over the years we've heard (and worked) Martti from a variety of contest stations as well as stations a great deal closer to his own home in Finland. Here are some examples of both...




Martti is (without question) one of the most accomplished DXers of our time. With the support of his loving wife Lenna OH2BE, he has pursued his passion for radio quite literally around the world on numerous occasions.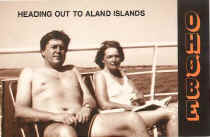 While life on the DXers side of the microphone and key is exhilarating as the seemingly relentless pileups are worked, it's also fraught with tremendous human challenges that test an individuals ability to function under what is often an extremely demanding environment.

Like anything in life worth doing well, it takes practice to develop the required level of human stamina to deliver your best under DXpedition conditions -- without question, Martti has the right stuff.


In the image on the left you see Ville, OH2MM (L) and Martti (R) recovering from malaria in Helsinki's Aurora Hospital after the 3C0AN DXpedition. Fortunately, the bedside table was just large enough for the radio!


The real-time thrill of the event as seen in the image on the right, and the post-event agony of being hospitalized with malaria were the two sides to this DXpedition -- but that's a DXer's life! Martti sums up the 3C0AN DXpedition by saying it was his "first serious love... DX-wise that is."

The physical, emotional and mental challenges faced by the intrepid DXer are too numerous to mention. But suffice to say that from the frigid extremes of the Antarctic to the humid jungles of Africa; from contracting a disease like malaria to enduring the political fall-out and unbelievable disappointment that arises from failed negotiations with foreign dignitaries -- it's all part of being a true DXer.

Over the years Martti has proven his resilience and resourcefulness in the face of these challenges time and time again for one simple reason -- he constantly dreams the DX dream. In the words of the legendary Red-Eyed Louie:

Oh, lonely night, last forever.
You have made me learn to live and love,
And work DX...

It seems appropriate to summarize this retrospective on Martti with some words from another legendary character -- none other than the Old Timer who suggests "DXing is a state of mind" and you should "judge a DXer by what they are and what they think, not what they have worked." And that was all he would say.

This retrospective was written and assembled by Paul, VE7BZ (ex VE7AVV), originally published in 2006.

Some QSL imagery was sourced from the Internet while other key images were supplied by Brent VE7BD and Jim W6YA.

Read more about Martti